You've probably eaten a combination of the same two-to-three main entrees and side dishes for Christmas dinner throughout the years. It's understandable if you are ready to mix up your culinary options for the holidays.
We've got some great non-traditional Christmas dinner ideas for you and your family to enjoy this holiday season.
5 Non-Traditional Christmas Dinner Ideas
Review our tasty non-traditional Christmas dinner ideas for you to try this holiday season:
1. Steak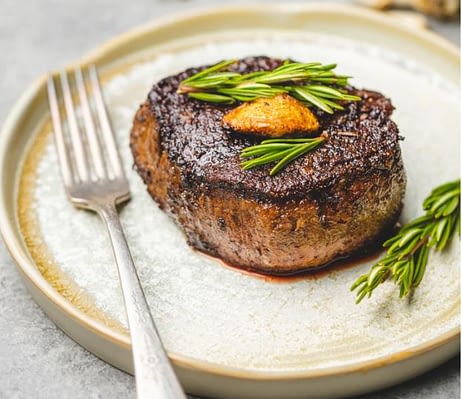 While steak is normally a crowd favorite, it's not a typical main entree for most people's holiday meals. Choose the highest-quality steak you can find and gather all of the necessary ingredients for the sauce of your choosing.
Some good steak recipes for the holidays include:
No matter what sauce you choose, your non-traditional Christmas dinner is sure to be memorable when you select steak as a part of your main course.
2. Vegan Cauliflower, Tofu, and Chickpea Salad
Make a delicious vegan appetizer as the perfect precursor to your main holiday meal. Your vegan and vegetarian guests will be delighted by this tasty option.
This vegan cauliflower, tofu, and chickpea salad includes a blend of ingredients such as curry powder, cayenne pepper, mustard seeds, cumin seeds, and minced fresh garlic that will be sure to spice up your vegetarian protein.
Find the full recipe here.
3. Homemade Lasagna
The great thing about lasagna is that it can be made in a variety of ways and it feeds a large group of people. Although you can never go wrong with a traditional lasagna, we also recommend:
Lasagna is easy to make and your family and friends are sure to enjoy this main dish as a part of their Christmas meal.
4. Roasted and Stuffed Butternut Squash
The Christmas table spread wouldn't be complete without at least one specially prepared veggie side. Liven up your butternut squash this holiday season by stuffing it with things like turkey, apples, sage, and cranberries.
Some other stuffed butternut squash recipes include:
roasted butternut with persian lentils
roasted butternut with miso mushrooms and tofu
5. Pecan Pie Cheesecake
For dessert, ditch the traditional pie options. Try pecan pie cheesecake instead. The nutty and sweet flavor of this light and fluffy dessert option is sure to delight your guests taste buds.
The best thing about this pie filling? You can use spiced rum or bourbon, which is a delicious addition to your Christmas meal.
Need a Personal Chef for your Intimate Holiday Event?
Chef Nigel is an experienced personal chef in the NYC area that can accommodate your holiday catering needs for any of your holiday get-togethers or date-nights. If you want to try an international dish, but aren't quite sure how to make it, Chef Nigel can teach you or be the personal chef for your intimate event.
Contact us to learn more about our services or visit our website today!