Diet fads come and go. Back in the day, old-school diet plans like Weight Watchers and South Beach ruled the culinary choices of folks across the country. Now Instagram feeds are filled with buzz words like "paleo", "keto", and "raw-food." But what about those of us who just want to eat good food? What if I told you that it was possible to eat in a way that was environmentally sustainable, good for you, and delicious?
There are ways to eat vegan plant-based recipes that make you enjoy dinner even more.
Try Plant-Based Recipes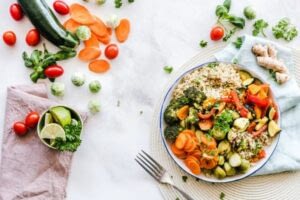 A plant-based diet avoids meat, dairy, and eggs in favor of plant-based protein. Think veggie burgers, tofu, legumes, nut butters. Plant-based does not mean that your diet consists only of vegetables and fruit. . Have you noticed that when you choose to have a "vegetable for lunch," it's hard to find something other than a salad or a plate of steamed veggies? Some days I don't want a salad for lunch. And other times, I want more of a meal that includes rice, beans, or something heartier than produce. Thankfully, even though the bulk of vegetables are starches or carbs (potatoes, corn, yams), there are actually plenty of plant-based recipe options that serve as excellent meat substitutes. The main idea for the vegan diet is to eat from all five food groups. Vegan options have grown exponentially in the past few years, meaning they are probably vegan dupes for your favorite meat or dairy-based dishes. A vegan dinner doesn't have to be time-consuming or difficult to make. As a matter of fact, most meals are easy to make if you know where to look. Here are a few simple ways to dip your toe into plant-based eating and some delicious plant-based dinner.
Plant-Based Burgers
There's nothing like sinking your teeth into a juicy, hearty burger. Now with amazing vegan alternatives like the plant based Impossible Burger and Beyond Burger, you don't have to give that up. Top these with non-dairy cheese, lettuce, tomatoes, sautéed onions and a dash of Chef Nigel's Mango Habanero sauce for a quick and delicious dinner.
Ditch the starch
For a sneaky way to add more vegetables into your diet, switch out starchy foods like rice and pasta for veggie dupes! Zoodles are a pasta alternative made from zucchini. If you feel like taking on a fun challenge, zoodles can be made using a julienne cutter, mandoline, or spiralizer. However, you can also find them in the freezer section of your grocery store.
Go International
The average American diet is heavy in meat and cheese, but many international cuisines already incorporate meatless and plant-based eating. For example, Channa Masala is a Northern Indian chickpea dish that is both delicious and vegan (just replace the Ghee with plant-based oil.) Falafel is another yummy vegan dish coming out of the Middle East, made with chickpeas or fava beans. On a warm pita with tabbouleh and a vegan tahini sauce, or on top of basmati rice, this flavorful dish is one of my personal favorites.
Have fun with failure
Transitioning to a plant-based diet can be a really fun way to get active in the kitchen if you aren't already. Trying different recipes, testing out ingredient substitutes, and exploring new culinary skills are all a part of building a new lifestyle. Not every recipe will be a success and some "dupes" will leave much to be desired. But, that's the fun part. What I love about cooking is the creative freedom of turning simple ingredients into something extraordinary. Just like a work of art, not every meal is going to be a Michaelangelo, but the effort and creativity will develop your skills for your next culinary project.
"Want To Cook Ridiculously Tasty Vegan Recipes From Scratch But Have No Idea Where To Start?" Check this out!
For more food-inspired cooking tips and the latest Chef Nigel news, check out some of my other Gourmet Food Blog here!