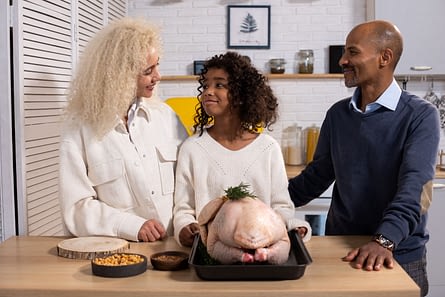 Thanksgiving is literally a couple of days away! As we reach the end of another year, we look forward to the food and company of our friends and loved ones. Gathering in the warmth of a home surrounded by family and friends for Thanksgiving dinner is surely something to be thankful for.
Remember as you prep, cook, eat and clean up with your loved ones that sharing space and time with them is the most important thing this holiday season, besides the food of course.
Please enjoy this personally curated Thanksgiving menu by the premier chef, Chef Nigel.
Thanksgiving Dinner Menu
Soup
Warm your body and soul up this holiday season with a delicious fall soup to enjoy with your family.
White Bean & Escarole
White bean, Escarole & garlic croutons
Salad
Fall Salad with Mixed Greens, Pomegranate Seeds, Diced Roasted Butternut Squash, Maple Honey Glazed Walnut, Warm Breaded Goat Cheese
Wildberry Vinaigrette
Entree
The main course and side dishes are of course what everyone looks forward to on Thanksgiving! With endless side options that will leave you stuffed, we include the best of the best holiday side dishes for you to include with your Thanksgiving dinner.
Our personal favorite is the macaroni and cheese as well as the candied yams.
Herb Roasted Turkey
Honey Baked Ham
Sides
Macaroni and Cheese
Roasted Garlic Mashed Potato
Baker Corn
Candied Yams
Cornbread Stuffing
Honey Butter Glazed Cornbread
Buttermilk Biscuits
Sauteed Brussels Sprouts & Green Bean
Dessert
Last but not least is the dessert. We finish our Thanksgiving dinner in the Hinckson household with two traditional pies that please aunts, uncles, moms, dads, children, grandparents, and cousins alike.
Pumpkin Pie
Sweet Potato Pie
Although, each family has its own Thanksgiving day menu and traditional dishes, try something new this year and create new traditions. Share your favorite Thanksgiving dinner dishes with us below in the comments!
Book Chef Nigel
After your Thanksgiving dinner, you may need a rest from cooking. This holiday season, hire Chef Nigel to cater your parties so you can enjoy hosting without the hassle of cooking a holiday menu that will wow all of your guests.
Contact us here to book your spot today!