Summer is almost over. The heat is going to fade out and be replaced with cool crisp air, which means new flavors and recipes will replace the flavors and recipes of the summer. One of the best things about this season is the summer desserts that combine a bunch of natural fruit flavors for a delightful treat after the main course. 
In the summertime, we all look for foods that are cool, refreshing, and light to enjoy at cookouts, picnics, or at the dinner table. We have compiled a list of summer flavors and four delicious summer desserts for you to try over the next couple of weeks before fall officially begins. 
What Are Summer Flavors?
Here are some of the most popular summer flavors you can incorporate into your meals, snacks, and desserts.
Watermelon

If watermelon doesn't remind you of cooling off in the summer sun after swimming all day, I don't know what does. Watermelon is the iconic fruit of the summer and it is high in antioxidants that'll nourish your body.
There are so many ways to eat watermelon this summer. For instance, you can chop it up and put it in a salad, spread some greek yogurt over it, or make a delicious watermelon lemonade.
Whipped cream and strawberries will always be a crowd favorite for a summer snack. They are refreshing and delicious berries that make any summer dish sweet and tasty.
Use strawberries in summer drinks, salads, and desserts.
Cucumber
Wanna be cool as a cucumber? Try eating this hydrating fruit. It often masquerades as a vegetable, but it's a fruit that promotes bone health and provides a refreshing taste.
Use cucumbers in a greek salad or cut them up and eat them with creamy hummus.
Coconut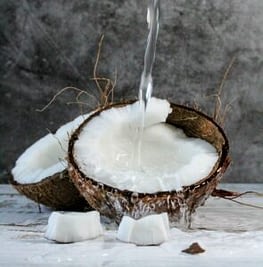 When you think of coconut, you probably think of tropical vacations and delicious-smelling candles. This versatile fruit is jam-packed with healthy nutrients your body will love such as copper, iron, and manganese.
Try coconut in your summer recipes such as in a savory curry, a refreshing smoothie, or a pina colada.
Blueberry
Blueberries are power-packed with antioxidants in every bite. They taste great in a variety of summer desserts, breakfasts, and salads. Trust us, your parfaits and smoothies are much better with blueberries in them this summer.
4 Summer Desserts to Try This Season
Put these summer flavors to the test by trying some of them in these five delicious desserts:
1. Brown Butter Peach Cobbler
This tasty summer dessert is an all-time favorite. This warm and buttery dessert incorporates the refreshing peach fruit flavor with the sugary and flaky flavors of the crust and filling. It's a delightful dessert to pair with vanilla or cinnamon ice cream in the summer.
The full peach cobbler recipe can be found here.
2. Coconut Cream Pie
The light and delicious flavors of coconut cream pie are perfect for warm weather. The sweetness of the pie and delectable whipped cream provides a refreshing way to enjoy a summer treat. You are sure to enjoy each bite of this wonderful flaky dessert. 
A link to the full recipe can be found here.
3. Strawberry Shortcake
Strawberry shortcake is a delight for your taste buds. Layer cake or cornmeal biscuits on top of whipped cream, coconut cream, or yogurt with some strawberries and enjoy. 
This simple dessert is ready in just minutes!
Find the recipe here.
4. Creamy Vegan Lemon Bars
For those of you looking for a healthy plant-based option, try these creamy vegan lemon bars. They are made out of raw cashews, arrowroot, maple sugar, lemon zest, lemon juice, almonds, oats, and sea salt.
These lemon bars are also gluten-free!
Check out the full recipe here.
Chef Nigel offers the best desserts on his dinner party menu. Book with Chef Nigel in the NYC area today for a meal that is truly incomparable!
If you need new cooking tools to make some of our recommended recipes, shop with us today to get top-quality kitchen gear.