You don't have to sacrifice flavor when you cook vegan food. Spice it up with some of the best spicy vegan recipes this fall season (or any season!) Spice-lovers will rejoice when they cook some of these delectable spicy vegan dishes. We curated some of the best vegan dishes that contain mild to hot spices and ingredients for hot sauce lovers. 

7 Delicious Spicy Vegan Recipes to Try
Check out seven of the most deliciously spicy vegan dishes to cook for your next heat-filled meal. 
1. Sriracha Habanero Buffalo Wings
This spicy vegan dish is sure to pack a punch to your taste buds. The heat of the habanero peppers and the sweet spice of the sriracha makes a great sauce for your deep-fried soy curls (buffalo wings).  
Some things you'll need for these spicy buffalo wings include soy curls, no-chicken broth, garlic cloves, salt, cornstarch, garlic powder, parsley, vegan butter, vegenaise, and sriracha.
Check out the full recipe here.
2. Spicy Kimchi Stew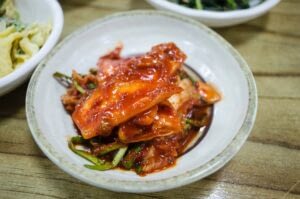 Kimchi is a crowd favorite and super easy to make in 30 minutes or less! Pair your deliciously spicy kimchi stew with some tofu, rice, and mushrooms to make it a true meal that'll satisfy your hunger.
For your spicy vegan kimchi stew you'll need 1 small onion, vegan kimchi, shiitake mushrooms, soy sauce, Korean chili paste, sesame oil, firm tofu, green onions, and Korean chili flakes.
Check out the full recipe here.
3. One-Pot Spicy Vegan Chili
One-pot meals and stews are perfectly hearty and tasty dishes for the upcoming cold weather of the fall and winter months. Try this hot and spicy vegan chili one brisk night this season. Pair this dish with some fresh avocado slices, rice, and cilantro. 
Some ingredients you'll need for this dish include onions, carrots, garlic, bell peppers, kidney beans, vegetable stock, red chili, cumin, bay leaf, salt, pepper, and corn.
Check out the full recipe here.
4. Spicy Vegan Chicken Masala
This dish has a restaurant flair made from the comfort of your own home. This dish has a savory full-bodied flavor that will satisfy your taste for spice. Spicy vegan chicken masala takes only 30 minutes to make and combines some delicious spices that your taste buds will love.
You'll need a few ingredients first including seitan, onions, ginger-garlic paste, cayenne, turmeric, coriander powder, vegetable stock, salt, and cilantro. 
Check out the full recipe here.
5. Spicy Vegan Jambalaya
Spicy jambalaya is just as good without the meat! Try this easy meal that'll give you a taste of Louisiana spice from home. If you enjoy less spice, try using less paprika and jalapeno. 
Some ingredients you'll need for this delicious recipe are brown rice, tomatoes, garlic, celery, yellow onion, jalapeno, vegetable stock, vegan worcestershire sauce, bay leaves, smoked paprika, hot sauce, salt, pepper, and chopped cilantro. 
Check out the full recipe here.
6. Spicy Ramen with Tofu
If you love ramen from your favorite Japanese restaurant, you'll love making ramen from home. This ramen is a spicy heaven that will tantalize your taste buds. 
You'll need to make or buy your own spicy miso paste to add the kick you desire. Some other ingredients you'll need include firm tofu, oil, shiitake mushrooms, vegetable stock, unsweetened soy milk, ramen noodles, scallions, roasted seaweed, sesame oil for serving.
Find the full recipe here.
7. Spicy Sriracha Buttermilk Biscuits
What's better than a warm buttery biscuit on a Saturday morning with some tea? Try your hand at making these deliciously spicy and moist biscuits. The best part about these biscuits is they only take 20 minutes to cook!
Some ingredients you'll need include unsalted butter, kosher salt, Rodelle Asian sriracha seasoning blend, flour, baking powder, baking soda, honey, unsweetened dairy-free yogurt, and vegan butter.
Check out the full recipe here. 
For a fruity kick of spice pick up some of Chef Nigel's amazing Mango Habanero sauce for vegan chicken wings or use it as a sauce for buffalo cauliflower. Your taste buds will thank you.
If you are interested in booking a personal chef in the NYC area for your next intimate event, get a free consultation here.