Mango habanero sauce is incredibly versatile. You can use this sauce on a variety of meats with a variety of spices that suit your taste buds. Chef Nigel's handcrafted sauces can be used to dip or marinate your meats and veggies. The sauce is great for appetizers, dinners, and even tastes great in drinks. Check out our list of delicious dishes that pair well with mango habanero sauce.
5 Delicious Recipes With Mango Habanero Sauce
Here are five of the best dishes made with mango habanero sauce for you to try.
1. Grilled Mango Habanero Jerk Chicken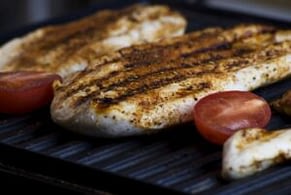 Enjoy this Caribbean inspired jerk chicken recipe with a little kick of heat and sweetness that pairs well with the savory garlic and onion flavor. There are many ingredients in this recipe but the dish comes together fairly quickly. You can make your own mango habanero sauce, or you can make it simple by purchasing it pre-made.
Ingredients:
1/2 cup diced red onion

1 teaspoon honey

1/2 teaspoon ground allspice

1/2 teaspoon ground cinnamon

1/4 teaspoon ground nutmeg

Kosher salt and black pepper

Fresh orange juice

Fresh lime juice

2 tablespoons low sodium soy sauce

2 tablespoons olive oil

1 minced garlic clove

1/2 of  a habanero pepper with the seeds removed

2 teaspoons fresh thyme

1/2 teaspoon grated fresh ginger
Find the full recipe here.
2. Grilled Mango Habanero Chicken Wings
Love wings? So do we, but we make ours with our delicious mango habanero sauce that provides spicy and fruity flavors that will tantalize your taste buds. This dish is great as a main course or as an appetizer at a backyard BBQ. The sauce enhances the wonderful smokey flavor of the chicken wings for a perfect addition to any meal.
Ingredients:
Check out the full recipe here. 
3. Spicy Mango Habenero Ribs
Get ready for the delicious flavors of the Caribbean with these tender fall-off-the-bone grilled ribs. The sweetness of the mango juice and the spice of the habanero peppers provide the kick that every good rib should have. Make sure to marinate your meat for four to six hours to ensure all the flavors sink in. 
Ingredients:
1 rack pork ribs baby back style

9.6 oz mango nectar

2 Tbsp hot sauce 

1 tbsp ketchup

1/4 cup brown sugar

1/4 tsp

allspice

1 mango cubed

1/4 cup apple cider vinegar
Dry rub:
Check out the full recipe here.
4. Pork Chops With Mango Habanero Sauce
Add some heat to your pork chops with the perfect pair of sweet and spicy with a delicious mango habanero sauce. This dish is fresh and light for a spring or summer meal. You can also replace the pork chops with a light fish. 
Ingredients:
1/2 cup finely chopped Italian flat leaf parsley

1/4 cup finely chopped fresh cilantro

2 garlic cloves, minced

1/4 cup Cream of Sherry

1/4 cup olive oil

salt

pepper

4 6-ounces bone-in pork chops
Check out the full recipe here.
5. Mango Habanero Meatballs
Last on our list of delicious mango habanero sauce dishes is the spicy mango habanero meatballs that are a perfect cocktail appetizer or you can serve the meatballs as a main dish over rice. Add in some lime to have the taste of another fruity flavor to compliment the sauce and garlic in the meatballs. 
Ingredients:
1 pound ground turkey

1/4 small yellow onion, diced

2 tablespoons minced fresh garlic (or 1 tablespoon from the jar)

1 egg, lightly beaten

1/4 cup unseasoned bread crumbs
Find the full recipe here.
Enjoy Chef Nigel's mango habanero sauce on your own meals by purchasing the sauce and bring Caribbean flavor to all of your favorite meals. You can also enjoy Chef Nigel's cooking at your next private event. Book catering services or personal chef services today.