It's likely that you are one of the millions of people who strive to have a healthy relationship with food and to develop good eating habits. That is why we created this guide to making and keeping food-related New Year's resolutions. 2022 brings many possibilities and lifestyle changes that will hopefully help you thrive, make your insides thank you as much as your outside with our guide!
3 Benefits of Making and Keeping New Year's Resolutions
Here are three benefits of making and keeping New Year's Resolutions:
They Promote Self-Esteem and Empowerment
Making resolutions gives you something to look forward to for the new year ahead. These resolutions can relate to any subject or area in your life, but most often they serve to help you become a better person.
This boosts your self-esteem and empowers you to stay on track with your goals for the future.
They Are Great Motivators
Resolutions are best kept when they are written down. They give you something to strive for, thereby serving as a sense of motivation. You are more likely to complete your goals and resolutions when you write them down. This goes for big or small resolutions, from traveling to multiple countries to eating healthy food.
They Provide a Sense of Achievement
Once you complete the resolutions you make, you will experience a great sense of achievement. You'll be more likely to believe in yourself and make you more likely to keep your resolutions in the years to come.
10 Food New Year's Resolutions That Are Easy to Keep in 2022
Check out these 10 food-related New year's resolutions that your body will thank you for in 2022.
1. Eat at Home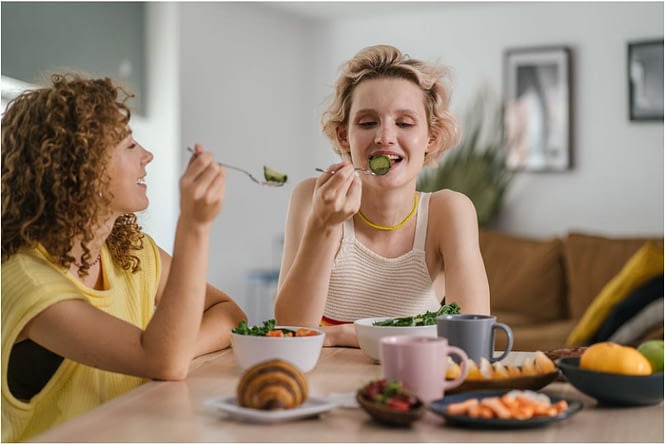 Eating at home is a good way to keep track of what you eat, what's in what you're eating, and what time you eat. It is also a great way to save money, as eating at home is way more budget-friendly than eating out.
Find a great healthy food blog to follow and make some of the recipes on the blog. To make it even better, you could give yourself a break from cooking and hire a personal chef to take care of the cooking and follow all of your dietary restrictions.
2. Be Mindful of Drink Choices
Many calories and sugars are consumed when we drink. Take a look at just how much sugar is in your morning latte, energy drink, or juice. You may find that a good bit of your calorie intake is coming from what you drink, rather than what you eat.
Swap out the sugary caloric drinks for water or tea.
3. Stay Hydrated
The key to happy and healthy life definitely lies in how much water you drink. Water intake can improve kidney function, promote clear skin, and aid digestion.
According to leading health sources, we should be drinking between 2.7-3.7 liters of water a day to remain hydrated and to get the full benefits it provides.
4. Be Responsible When Consuming Alcohol
Over-consumption of alcohol on a regular basis may lead to adverse health side-effects. Alcoholic drinks and cocktails also often contain large amounts of sugar. Replace some of the mixers with natural options if you'd rather not forego cocktails altogether.
For instance, try a vodka seltzer instead of a fruity slushie drink.
5. Avoid Office Treats
Office treats like donuts, cookies, bagels, and other food items are tempting when you are trying to make better food choices. To curb your cravings and hunger, make sure you are well-equipped with your own healthy snacks and treats by bringing them from home.
Of course, treating yourself every once in a while is fine, but make sure it doesn't become a regular habit that derails your healthy-eating progress.
6. Purchase Only Nutritious Groceries
One of my personal mantras is never to go to the grocery store on an empty stomach. This is because it is easy to pick up anything and everything you see that looks good. This could lead you to buy unhealthy food options.
Instead, go when you are of sound mind and can choose foods that nourish your body and keep it strong.
7. Try a Meal Plan
If you have a hard time keeping track of what you eat or your eating schedule, you could try a meal plan. You may find a meal plan online or you could consult a personal trainer or a nutritionist.
8. Don't Skip Meals
Food keeps you going and full of energy. It fuels your body and allows you to accomplish great things throughout your day. To stay focused and at peak performance, make sure you're eating each and every meal and consuming healthy snacks throughout the day.
9. Download an App to Keep You on Track
Food tracking apps make it easy to keep track of what you consume. It also allows you to track nutrition facts and can provide you with reminders to eat and consume fluids at certain times.
Here are a few great food tracking apps:
MyNetDiary
Nutrients
Protein Tracker
10. Take Cooking Classes with a Professional Chef
If you are someone who isn't a whiz in the kitchen, take some time this year to learn how to cook from a professional chef. Chef Nigel Services offers cooking classes to all skill levels in the New York- Tri-city area. Book a class today for some fun and some knowledge.
We hope you set and keep your healthy food-related New Year's Resolutions this year! Comment below to share some of your resolutions with us!