We hope you are all having a great start to your holiday season with the ones you love. We compiled a list of some of Chef Nigel's favorite Thanksgiving recipes for you to try this year.
What Is Chef Nigel Thankful for This Year?
This time of the year is all about giving thanks and I would like to start off by giving thanks to my family who inspires me to keep cooking delicious food people will remember for years to come.
Food is universal, it brings people together and it builds memories these a just a few of the many things I love about food.
Our Brand is built upon always using the freshest ingredients possible to deliver a premium dining experience for all our clients.
I would like to thank all of the people that work behind the seen to help us achieve our mission. I love to connect with my clients through my food using seasonal vegetables locally sourced to cook eye-catching, mouthwatering meals.
I would also like to thank all our social media followers, I really appreciate each and every one of you.
I will be posting some of my favorite recipes here on my website that you can try at home. Keep a lookout for our newest blog post, and be sure to subscribe to our newsletter to receive one of my favorite recipes that you can prepare for yourself and your loved ones.
Top Three Favorite Thanksgiving Recipes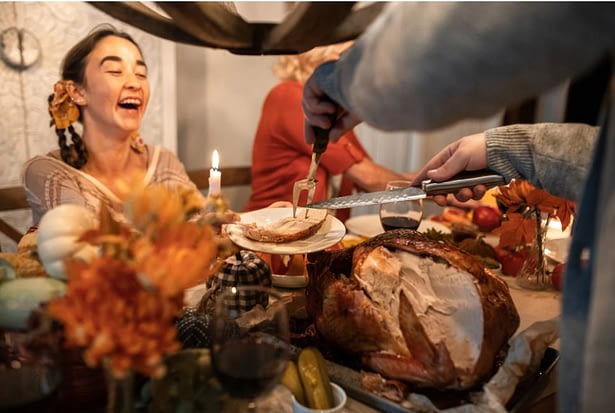 Check out three of Chef Nigel's favorite dishes to prepare for Thanksgiving:
1. Herb Roasted Turkey
2. Mac & Cheese
3. Candied Yams
Herb Roasted Turkey
Ingredients:
1 12-20lb frozen natural turkey
1 onion peeled and quartered
1 orange quartered
2 carrots peeled and chopped
2 stalks of celery washed and chopped
1 bunch of fresh rosemary
1 bunch of fresh thyme
1 bunch of fresh sage
Other Supplies
*Roasted Pan and Roasted Rack
For Herb Butter
1 cup unsalted butter softened
1 teaspoon salt
1/2 teaspoon coarse ground black pepper
7-8 cloves garlic, minced
fresh chopped herbs
Instructions:
If your turkey is frozen, start thawing at least two to three days before roasting.
Adjust your oven rack so the turkey will sit in the center of the oven. Preheat oven to 325 degrees F.
To make the herb butter combine room temperature butter, minced garlic, salt, pepper, one tablespoon of fresh chopped rosemary, one tablespoon of fresh chopped sage, one tablespoon of fresh chopped thyme. Use the remaining herbs to stuff the cavity of your turkey.
Keep the turkey neck and giblets, stuff them inside the turkey cavity along with the quartered onion, quartered orange, chopped carrot, celery, salt, pepper, and left-over fresh herbs. Use your finger to loosen and lift the skin above the breast on the top of the turkey and stuff three tablespoons of the herb butter underneath.
Tuck the wings of the turkey underneath the turkey and set the turkey on a roasting rack inside a roasting pan.
Melt the rest of the herb butter and use a basting brush to brush the remaining herb butter all over the outside of the turkey, legs, and wings.
Roast at 325 degrees F for 13-15 minutes per pound, or until internal temperature reaches about 165 degrees F. To check for doneness, insert your thermometer in the middle of the turkey's thigh and breast. Remove the turkey once the internal temperature reaches 160 degrees F.
Check the turkey about halfway through cooking. Once the skin gets golden brown cover the top of the turkey with foil, to protect the breast meat from overcooking and drying out.
Allow the turkey to rest 20-30 minutes before carving *Reserve any drippings and juice remaining in your pan to make your turkey gravy.
Baked Macaroni & Cheese
Ingredients:
16 ounces uncooked elbow macaroni
2 cups shredded sharp Cheddar cheese
2 cups shredded gruyere cheese
2 cup Shredded gouda cheese
2 eggs beaten
7 cups whole milk
1 stick butter
Salt (optional) the three cheeses contains salt
1 tsp black pepper
Directions:
Bring 4-6 Quarts of water to a boil, add a pinch of salt to your water.
Add pasta to boiling water and cooking pasta for 7-8 minutes, then Drain.
Add hot pasta to large casserole dish and stir in your butter, salt & pepper, 2 cups cheddar cheese.
Stir in your eggs, whole milk 
Add the rest of your shredded cheese making an even layer on top.
Cover with aluminum foil and bake for 1 hour then remove foil and bake for another 10-20 minutes until the cheese is nice and golden brown.
Enjoy!
Candied Yams
Ingredients:
5 medium sized yams
8 tbsp salted butter
1 tsp ground cinnamon
1/2 tsp ground nutmeg
1/4 tsp ground clove
1/4 tsp ground ginger
1 ¼ cup brown sugar
1 tbsp pure vanilla extract
Instructions:
Preheat the oven to 350 F.
Wash your yams.
Peel, then slice the yams about ½ inch thick
Place the butter in a medium sauce pan.
Melt butter over medium heat, once the butter is melted, sprinkle in the brown sugar, ground cinnamon, ground nutmeg, ground ginger and ground clove.
Mix ingredients and add vanilla extract.
Pour the candied mixture over your yams, make sure to cover all the yams with your mixture.
Cover your baking dish with foil and bake your yams in the oven for 40 minutes.
Remove yams from oven and base with the candied mixture.
Cover the yams and bake them for another 15 minutes.
Once out of the oven let sit for another 10 before serving.
Enjoy!
We hope you enjoyed our Thanksgiving recipes, please comment below if you tried one of the recipes and how it came out. Subscribe to our blog for more delicious recipes and foodie blogs.
Check out our services page to book your next catering event or cooking class!