[vc_row][vc_column][vc_column_text]The world of hot sauce is expansive and competitive. This year hot sauce makers from all over flexed their hot sauce making skills by producing the tastiest and spiciest hot sauces you can find. We love the hot sauce staples like Tabasco, Tapatio, and Franks Red Hot, but this year we found joy in exploring the tastes of lesser-known hot sauce makers.
We provide the top ten best hot sauces for you to try in 2021, ranging from mild to the hottest hot.
10 Best Hot Sauces to Try in 2021
New year, new flavor? Check out these 10 best handcrafted and delicious hot sauces.
1. Chef Nigel's Mango Habanero Hot Sauce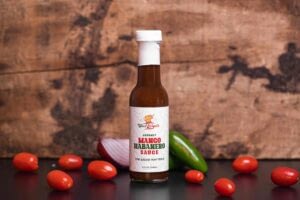 $6.99 at Chefnigel.com
Our top spot goes to our very own mango habanero hot sauce. Chef Nigel's Mango Habanero Sauce is a great sauce for cooking, dipping, and marinating. It has a great blend of heat and mango flavor that leaves you wanting more.
Nigel uses the finest habanero peppers and ripest mangos to create this incomparable hot sauce. You can taste the carefully cultivated flavor and a hint of heat in every bottle.
2. Mike's Hot Honey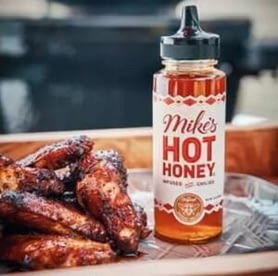 $9.99 at Mikeshothoney.com
Mike's Hot Honey is a unique blend of honey and chili peppers that adds a sweet kick to any meal. Mike first started putting his hot honey on pizza pies at the pizzeria he worked at, and eventually, customers started asking to buy it.
This hot honey goes best with fried chicken, pizza, wings, BbQ, cheese, and hot sauce cocktails.
3. Satan's Blood Chile Extract Hot Sauce
$16.89 at Amazon
Satan's Blood Chile Extract Hot Sauce is a highly rated hot sauce that is extremely hot. No seriously, the bottle comes with a warning label. This sauce is meant to be used for cooking, and not as a sauce that you slather all over wings, or some other meat.
For instance, you can add 5-7 drops of this sauce in chili to give your delicious chili a spicy kick.
4. Zombie Apocalypse Ghost Chili Hot Sauce
$13.99 at Amazon
Ready to turn up the heat with this 500,000 Scoville unit hot sauce? This all-natural, extract-free hot sauce combines Bhut Jolokia Peppers, Habanero Peppers, Carrot, Mandarin Orange, Tomatoes, and other flavors that provide a slow burn.
This tasty sauce can be used on tacos, chicken wings, steak, on your favorite sandwich, or on any of your other favorite foods.
5. Heartbeat Red Habanero Hot Sauce
$12 at Heartbeathotsauce.com
Heartbeat Red Habanero Hot sauce is the perfect blend of sweet bell peppers and red habaneros with fresh lime juice that sweetens it up. This sauce is made without preservatives or thickening agents.
Try this gluten-free and vegan sauce with all of your savory meals and snacks.
6. Shaquanda's Hot Pepper Sauce
$10 at Shaquandawillfeedyou.com
From farm to kitchen, Shaquanda uses the freshest ingredients to make her tasty sauce that boasts a symphony of flavors that is irresistible. Taste the fresh chili peppers, ginger, onions, lemon juice, horseradish, turmeric, and apple cider vinegar for a tantalizing combination of spice and flavor.
7. Dave's Original Insanity Hot Sauce
$9.49 at Davesgourmet.com
Dave's blend of spices and peppers changed the face of spicy hot sauce forever. Dave's Original Insanity Hot Sauce is known as the hottest sauce in the universe. Use it as a flavor enhancer, one drop at a time, in burgers, burritos, chili, soups, and any other food you'd like to add an extremely hot flavor too.
8. Truff Hot Sauce
$17.98 at Truff.com
Ever tried a truffle-infused hot sauce? Now's your chance. Taste Truff Hot Sauce, the smooth and slightly sweet sauce that blends ripe chili peppers, black truffle, savory spices, and organic agave nectar.
It's a real experience for your taste buds. Truff Hot sauce comes in three different levels of spicy and they even have a Truff hot pasta sauce!
9. Char Man Caribbean
$8.95 at Amazon
Besides the amazing hot sauce label, Char Man Caribbean hot sauce is an award-winning hot sauce, and for good reason. With an addicting blend of Guero, habanero, and Manzano chiles, along with classic island spices and hints of pineapple and mango you can use this sauce on chicken, seafood, and rice.
10. Red Clay Original Hot Sauce
$9 on Redclayhotsauce.com
Red Clay Original Hot Sauce boasts a mild flavor profile so you can enjoy the tastes of sweet, mild Fresno peppers. This sauce is meant to enhance your dishes, rather than mask the flavors. Try this signature sauce with oysters or fried chicken.
We hope you enjoyed our list of the ten best hot sauces. Try our mango habanero or passionfruit hot sauce today for a tasty heat that pairs well with all of your favorite foods.