Hosting guests for dinner doesn't always have to include standard and polite conversation. We know that it's nice to catch up and hear about your friends' pets, kids, and careers, but playing dinner party games can help to skip the small talk by getting you to the good stuff. 
Try playing one of 10 game picks the next time you have a dinner party booked with Chef Nigel. 
Why Include Dinner Party Games at Your Next Gathering
Here are four reasons why your friends, co-workers, and family should play games at your next dinner party: 
They Liven Up Your Gathering
There is a lot of prep work and cleanup that goes into hosting a dinner party. This may leave dull moments and awkward silences throughout the night. 
Playing games before or after dinner can help make the party more lively and fun. It can even be something you and your guests discuss at the dinner table while enjoying your meal.
They're a Good Way to Break the Ice
If you are throwing a dinner party and your guests don't know each other well, it's best to play games that can break the ice. 
For instance, you can play get-to-know-you games or just select a well-known game that everyone will participate in. 
They Get You Out of a Predictable Dinner Party Routine
Your guests may not always expect a fun night out when invited to a dinner party to enjoy a delicious meal prepared by a chef. Sure, they may love the food and drinks, but a traditional dinner party may not be their idea of fun. 
Throw in a few games to make the night more interesting and less predictable. This way, your dinner parties become the most coveted out of your friend group.
They Make it Easier to Stick to an Agenda
Having a game to play during appetizers or after dinner helps you to keep the momentum of the night going. Games will make it easier for you to stay on schedule with your night. They can be a marker of time and can even make time seem like it's moving faster if dinner is running behind. 
10 Best Dinner Party Games to Play
You're sure to thrill and impress your dinner party guests by choosing one or more of these games to play:
1. Table Topics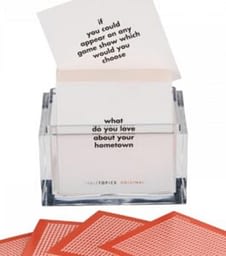 Table Topics is a popular question game to play with family members or friends. It comes in a card deck with several cards that each contain a question for people at the table. 
The idea is to start great conversations that help you get to know the people you're playing with better.
Table Topics has various card deck editions for different occasions. Some of these editions include dinner party, not your mom's dinner party, book club, girls' night out, and more.
2. Taboo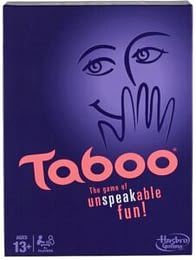 Taboo is a classic board game that gets people to show their competitive edge. Taboo gets people talking (or yelling) while making you use your brain to describe a word or phrase on a card without using the five off-limit words.
Play this game when you want your dinner party guests to really engage with each other.
3. Cards Against Humanity
Want a party game that is equal parts hilarious and inappropriate? Choose Cards Against Humanity, "the party game for horrible people", for your next dinner party. Warning: this game gets awkward and it is best to play with people you know well. 
4. Mafia
Mafia is a game of lying. It's also a great party game to use as an ice breaker because you get to see how people lie and the way the "detective" interprets participants' body language to see if they are bluffing. 
This game is best for dinner parties with 7 or more guests. 
5.
Pictionary
The Pictionary game is a quick-draw classic that gets the party started. The participants draw a word on a piece of paper or a whiteboard and the others get to guess what they drew. The answers are often as hilarious as the drawings!
6. Heads Up 
Heads Up is a recent fan favorite created by the Ellen Degeneres Show. This word game includes charades, humming, accents, and clues that help you to guess the word or phrase on your (that you can't see) before time runs out. 
Whether you buy the physical cards or use the video game app Heads Up is sure to be a crowd-pleaser.
7. Jenga
Jenga is another classic game that lets your party guests use their hands to pull out logs from a tower without making the entire structure fall. We love the jumbo version of Jenga or dare Jenga for extra fun and laughs.
8. Two Truths and a Lie
Two Truths and a Lie is a great way to get to know your guests. The game works by requiring participants to reveal two things about themselves and one thing that is a lie. The rest of the players then guess which ones are true and which one is a lie.
The players can reveal anything they want to the group, it doesn't have to be intimate or life-revealing. 
9. What Do You Meme?
What Do You Meme? the game is a millennial favorite inspired by popular culture and internet humor. With this fun card deck, you and your guests can make your own memes and laugh about the photo and caption combinations you make. 
10.
Charades
Get your party guests up and moving with this hilarious classic. Charades is fun for everyone and it requires no strategy, just act out different words and phrases while your teammates guess.
It may require you and your guests to jump around, crawl on the floor, or pretend to be an animal, but the laughs and fun are sure to spice up your night.
Book Your Next Dinner Party With a Premier NYC Private Chef
Your next game night/dinner party is sure to delight your guests when you hire Chef Nigel as your personal chef for the night. He can make you a gourmet meal right from your own kitchen while you host and play dinner party games with your guests. 
Book your dinner party in the NYC area today.