Music makes events more fun and enjoyable, especially dinner parties and other dining experiences. Spotify has dinner playlists that help you to set the mood for your evening.
Check out how playing music can enhance your overall dining experience and our list of the six best Spotify dinner playlists.
Why Playing Music on Spotify Enhances Your Dining Experience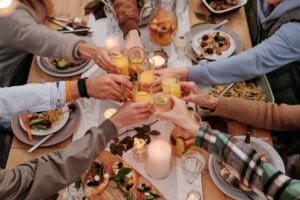 Here are a few reasons why playing a Spotify dinner playlist your event is a good idea.
1. Frequency and Volume Make Your Dishes More Flavorful
That's right, the music you play can enhance the flavors of your food. Scientists have found that playing low-pitch sounds during dinner can actually make savory dishes taste better.
And on the contrary, when music is played too loud, it can impair our sense of taste.
2. Music Tempo Influences Eating Rhythms
Studies have been conducted to show how music can powerfully influence eating and drinking rhythms in people. The quicker the tempo, the quicker people will eat, drink, and leave. The slower the tempo, the more likely they are to linger for a while.
3. It Sets the Mood
The music you choose greatly influences the overall mood of your dinner party. If you want your dinner to feel happy, fun, and upbeat, you'll need to select music that reflects those emotions.
For a calm meal, you may select more rhythmic and slow music that makes dinner conversation flow easily without too much distraction.
4. Music Makes Waiting for Dinner More Pleasant
No one wants to sit in silence while you or your personal chef prepares the meal. Of course, there may be some chatter here and there, but it's nice to have music in the background to enjoy to absorb the awkward silences that may happen while your guests wait for their food.
Best Spotify Dinner Playlists
Set the tone at your next dinner party by selecting one of these carefully curated Spotify playlists.
1. Dinner With Friends
This five-hour-long Spotify dinner playlist is filled with calm and rhythmic tunes to make for an enjoyable dining experience when you try new recipes or hire a personal chef. Some of the popular artists on this playlist include Sam Smith, Taylor Swift, James Bay, Selena Gomez, and Alessia Cara.
Turn on this playlist when you are interested in a mellow atmosphere with a few romantic vibes.
2. Chill Dinner
Want a relaxing backyard dinner in the spring or summer? Tell Alexa to play the Chill Dinner playlist on Spotify. Some of the popular artists with featured songs on this playlist include Harry Styles, John Legend, JP Cooper, and H.E.R.
Turn on this playlist for a gentle and melodious dinner that will surely please your guests' ears.
3. Feel Good Dinner
If you're hosting a dinner with good vibes, you need to play the Feel Good Dinner playlist. This playlist has some great covers of R&B songs from the 90s, along with other new soulful and instrumental Hip Hop undertones.
Some of the popular artists on this playlist include Amy Winehouse, John Mayer, HAIM, and Leon Bridges.
4. The Cook(in)
You'll love this cook(in) music. This playlist features all of the great cookout classics for when you want to get the dinner party started off right. Some of the hits this playlist includes are Got to Give it Up by Marvin Gaye and Get Down On It by Kool & The Gang.
Along with the old school hits, some modern artists like Beyonce and Drake are included. Have a great time at your dinner party as you sing and dance along to these timeless R&B and Soul classics.
5. Jazzy Dinner
If you're interested in having a classy and relaxed dinner party, spring for a more jazzy vibe with the Jazzy Dinner playlist on Spotify. This playlist features some great jazz musicians such as John Coltrane, Herlin Riley, and Thelonious Monk.
The piano, soft drums, and saxophone will make the night feel more enjoyable as you sip wine, eat, and listen to jazz all evening long.
6. Classical Intimate Dinner
Last but not least, is the more intimate dinner music for winding down on Spotify. Classical music provides a romantic feel for you and your closest loved ones. Enjoy piano sonatas and string quartets while you eat and drink to your heart's content.
Pick your favorite Spotify playlist now before you book a wonderful culinary experience with Chef Nigel in the New York Metropolitan area. The Caribbean flavors are sure to be enhanced and even more enjoyable to some great tunes.