Trying new foods is always exciting, especially when you get to make the recipes yourself. However, finding delicious and easy recipes is time-consuming and may require endless Google searches. Instead, try looking at a few of the best food bloggers we curated for you so you can access great recipes for a variety of diets right now. 
Food blogging is also an easy way to connect with others who have tried the recipes and are interested in cooking. 
7 Best Food Bloggers
Here is our list of the best food bloggers to love in 2021.
1. Budget Bytes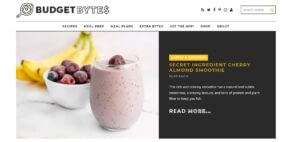 Budget Bytes is one of our favorites because it includes the prices of every ingredient you'll need to make the recipe. Think you can't make healthy food on a budget? Think again. Beth, the blogger behind Budget Bytes, started the blog as a way to track her recipes and progress with eating on a budget.
We recommend trying the one-pot creamy Cajun chicken pasta.
2. All the Healthy Things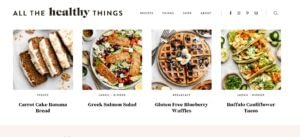 All the Healthy Things is a food blog dedicated to helping others make healthy meals in about 20-mins. This blog shows us how to have a healthy and well-balanced diet that is also delicious. 
We recommend trying the crispy baked ranch chicken wings.
3. Clean Foodie Cravings
Clean Foodie Cravings is another one of our favorites because of its wide variety of recipes, from breakfast to dessert. The blog mainly features keto recipes and the blogger has a cookbook for foodies to enjoy that can be purchased from Barnes & Noble and Amazon.
We recommend trying the creamy coconut mushroom chicken.

4. Food Heaven
Food Heaven is an awesome food blog written by two dietitians. They have balanced meals with a variety of vegan and vegetarian meals. 
We recommend trying the classic 3 step lentil soup recipe
5. Cookie + Kate
The Cookie + Kate blog focuses on healthy vegetarian recipes that are delicious and easy to make. Kate named the blog after her dog and herself. She also has a great cookbook called Love Real Food that you can purchase at Barnes & Noble and on Amazon.
We recommend trying the buffalo brussel sprouts.
6. Deliciously Ella
Deliciously Ella is a plant-based blog and lifestyle platform that has gained a large following. It now has expanded to several podcasts, a deli, an app, and a collection of recipe books. This blog focuses on helping people with chronic health issues to feel better through the foods they eat using tips, tricks, and recipes found on the site. 
We recommend trying the sesame and broccoli noodle salad.
7. Minimalist Baker
The Minimalist Baker blog has flavorful recipes that anyone can make and enjoy. With a variety of mostly vegan and gluten-free recipes, this blog is good for anyone with dietary restrictions. Many of the recipes only take 30 minutes, Just about 10 ingredients required to complete the recipes. 
We recommend trying the vibrant mango salad with peanut dressing.
Lastly, follow Chef Nigel's blog for recipes, food news, and other great food-related content. We have the best and most exciting culinary blogs for you to read. Try one of our fresh and delicious sauces to complement some of the new recipes you cook this year!